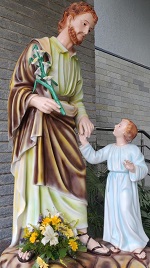 St. Joseph, who is the foster father of Jesus Christ, was a carpenter by profession and a symbol of hard work and toil.The vision of Jesuit Education is inspired by the life and teachings of Jesus Christ. It is a vision that is committed to the quest for a deep understanding of the myriad facets of reality.
Joseph, the silent man of the Gospels, is in the line of the great men of faith of the Old Testament. He is described as a "just man", a righteous man of integrity. St. Joseph was a descendant of King David.
The Gospels describe Joseph as a "tekton" traditionally the word has been taken to mean "carpenter", though the Greek term evokes an artisan with wood in general, or an artisan in iron or stone. He was declared to be the patron saint and protector of the Catholic Church by Pope Pius IX in 1870.
The Institution has taken St. Joseph to be our Patron for he was faithful to his responsibility as the husband of Mary and the foster father of Jesus.
He was a dreamer who understood the plan of God in his dreams and a symbol of hard work and simplicity. The Motto – 'Fide Et Labore' reflects the spirit of St. Joseph.
Prayer
St. Joseph, Renowned offspring of David, Spouse of the Mother of God, chaste guardian of the Virgin, Foster Father of the Son of God, Diligent protector of Christ, Joseph most just and Joseph most faithful.
Pray for us.